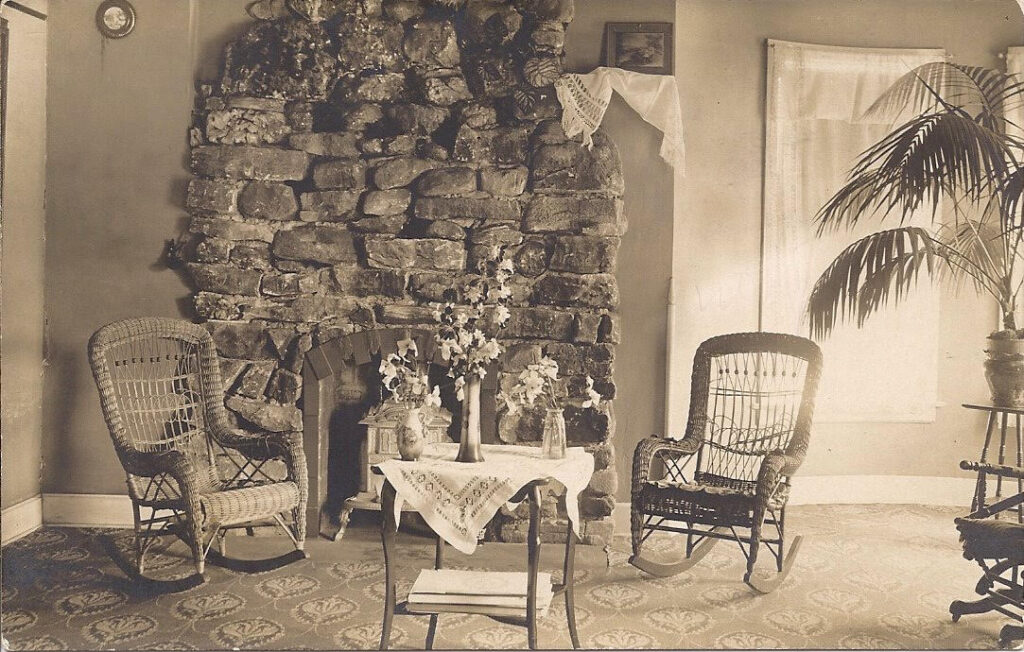 This photo comes from a collection assembled by my grandmother, Valeria Dewane.
The year? Not sure. It is certainly a room inside the round tower and I always imagine that someone sat here, having tea. I love the wicker chairs, the fieldstone fireplace. If the hotel had been salvaged, imagine how this room would be today. I think about an amazing tea with champagne, lovely dill and cream cheese sandwiches, perhaps a few deep fried cheese curds, just to keep it all real. I would want cream puffs for dessert.
Whoever visited, sat here, read a book, had a glass of schnapps, or tea or whatever are the ghosts that I imagine sitting here.

I have a postcard in my collection written by a presumably young man to his family, announcing that he and his sweetheart had eloped and were spending their honeymoon at Maribel Caves. I will hunt that down and post on that another time – perhaps someone who reads that post will know who that young man and his new bride were.
Even though Maribel, the building is fading into time, the stories abound and live on. Thanks to all of you who sent emails with memories.
Sherry
p.s. Wondering why I am writing about Maribel? See my first post.